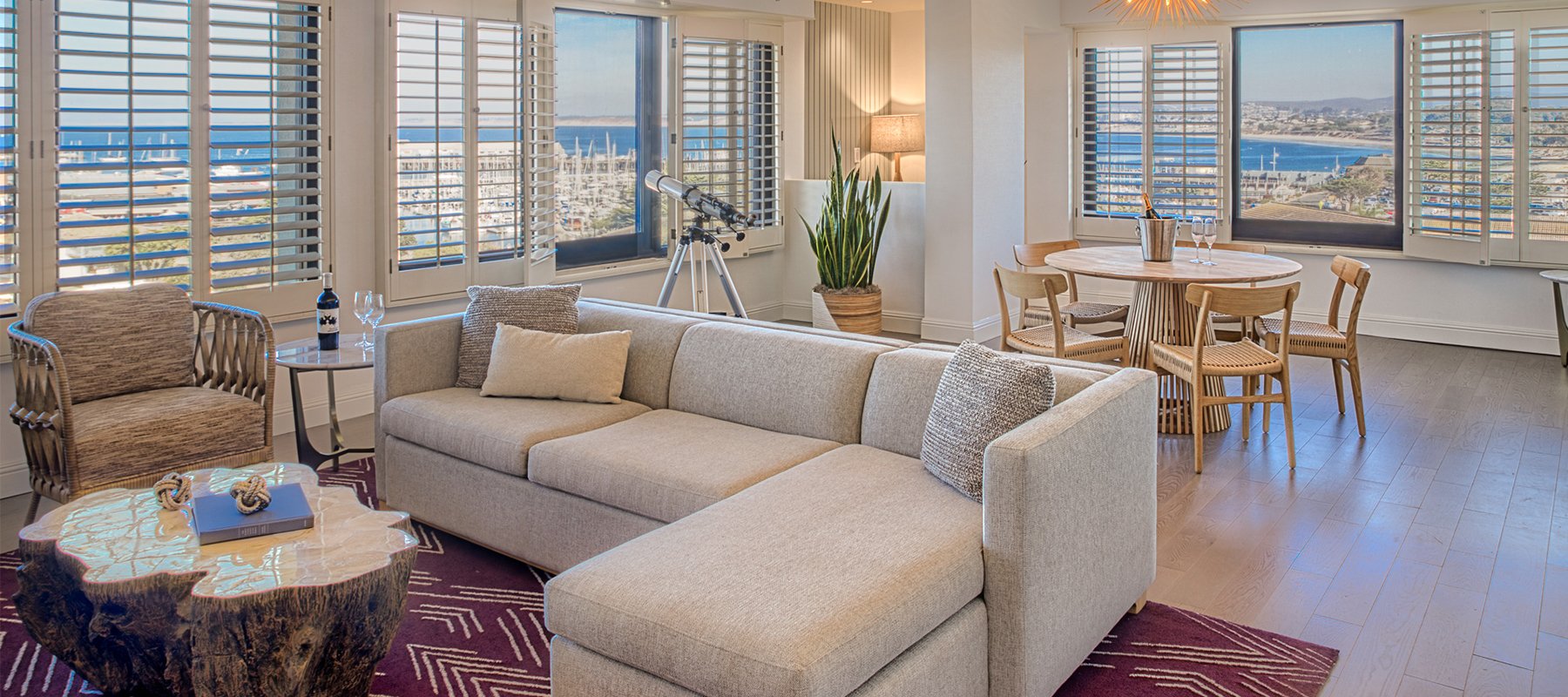 PORTOLA IN THE PRESS
Browse the latest press articles, news, and awards from Portola Hotel & Spa at Monterey Bay. Our hotel is a charming coastal retreat known for its local charm, high-end accommodations, and relaxed atmosphere on the Central California coast. We have also been honored with several awards and accolades including, Condé Nast Travelers Readers Choice Awards, Smart Meetings Smart Stars, Wine Spectator Awards, and more!
For media inquiries or to be added to our Portola press list, email us
[email protected]
.
Portola Hotel & Spa Announces Partnership with Virus Geeks to offer COVID-19 Testing
Tuesday, September 28, 2021
PORTOLA HOTEL & SPA ANNOUNCES PARTNERSHIP WITH VIRUS GEEKS BIO-HEALTH TECHNOLOGY
Monterey, CA - September 28, 2021 - Portola Hotel & Spa in Monterey, CA is proud to announce a new partnership with Virus Geeks, Inc. The data-driven bio-health technology company will provide no-cost COVID-19 testing at the Portola Hotel & Spa. The partnership is derived from Hotel ownership's desire to create a safe and healthy environment for staff, guests of the hotel, and the community.
"We here at Virus Geeks are extremely happy to have this wonderful partnership with the Portola Hotel & Spa at Monterey Bay. Our goal is to help give access to no-cost COVID-19 testing to as many people as possible," said John Touchton, Director of Market Development and Operations at Virus Geeks, Inc.
The opening of this new testing location in downtown Monterey aligns with the Hotel's continued efforts to create a safe working environment. All non-vaccinated Portola Hotel employees will be tested twice a week, and testing services will be available for all staff, guests, and community members. "The successful fight against this pandemic includes the support and action of every community member and visitor to our destination. Opening up a testing center in Portola's central location will benefit visitors and locals alike," said Janine Chicourrat, Managing Director at the Portola Hotel & Spa. The new testing location at the Portola Hotel will open, Tuesday, September 28, 2021.
"Testing is vitally important to many aspects of the world we are living in today, regardless of whether you are vaccinated or not. Getting tested at least once a week helps keep you, your family, your coworkers, your friends, and your entire community safe and informed. It is one very important way for each individual to help progress the process of more businesses re-opening, helping revive the economy, and getting things back to a relative normal. We are here to support in that effort and truly look forward to continuing to serve this community," said Frank Lee, CEO at Virus Geeks, Inc.
Testing services provided by Virus Geeks will be available inside Portola Hotel's, Peet's Coffee location during the cafe's temporary closure. Accessible from Alvarado Mall or the Portola Hotel lobby, the new testing location will be open Tuesday through Saturday from 7 am to 4 pm on a walk-in basis. COVID-19 PCR testing at this location is free and open to hotel guests and the community.
---
ABOUT PORTOLA HOTEL & SPA
Portola Hotel & Spa is California's premier family-friendly destination offering easy access to Monterey's most popular attractions. Leading the way as the Central Coast's first LEED® Certified hotel, Portola reflects unparalleled modern coastal luxury in downtown Monterey. The AAA Four Diamond hotel is the perfect coastal inspired escape, featuring 379 newly renovated guest rooms, and 60,000 square feet of meeting space with the adjacent Monterey Conference Center. The serene environment and pet-friendly accommodations offer several on-site, award-winning amenities including, Spa on the Plaza, an outdoor pool, exceptional dining, a craft brewery, a children's loyalty program, and more.
For more information, please visit portolahotel.com.
ABOUT VIRUS GEEKS, INC.
Virus Geeks, Inc. is a data-driven Bio-Health Technology Company that develops health-centric initiatives to improve the quality of life through strategic partnerships across healthcare and biotechnology sectors. Located in the Bay Area, Virus Geeks helps large populations gain access to molecular diagnostic testing and provides organizations the technology to manage data efficiently.
For more information, please visit virusgeeks.com.
MEDIA CONTACT
Portola Hotel & Spa
Janine M. Chicourrat, Managing Director
[email protected]
(831) 649-7890
Virus Geeks, Inc.
John Touchton, Director of Market Development & Operations
[email protected]
(800) 731-8815