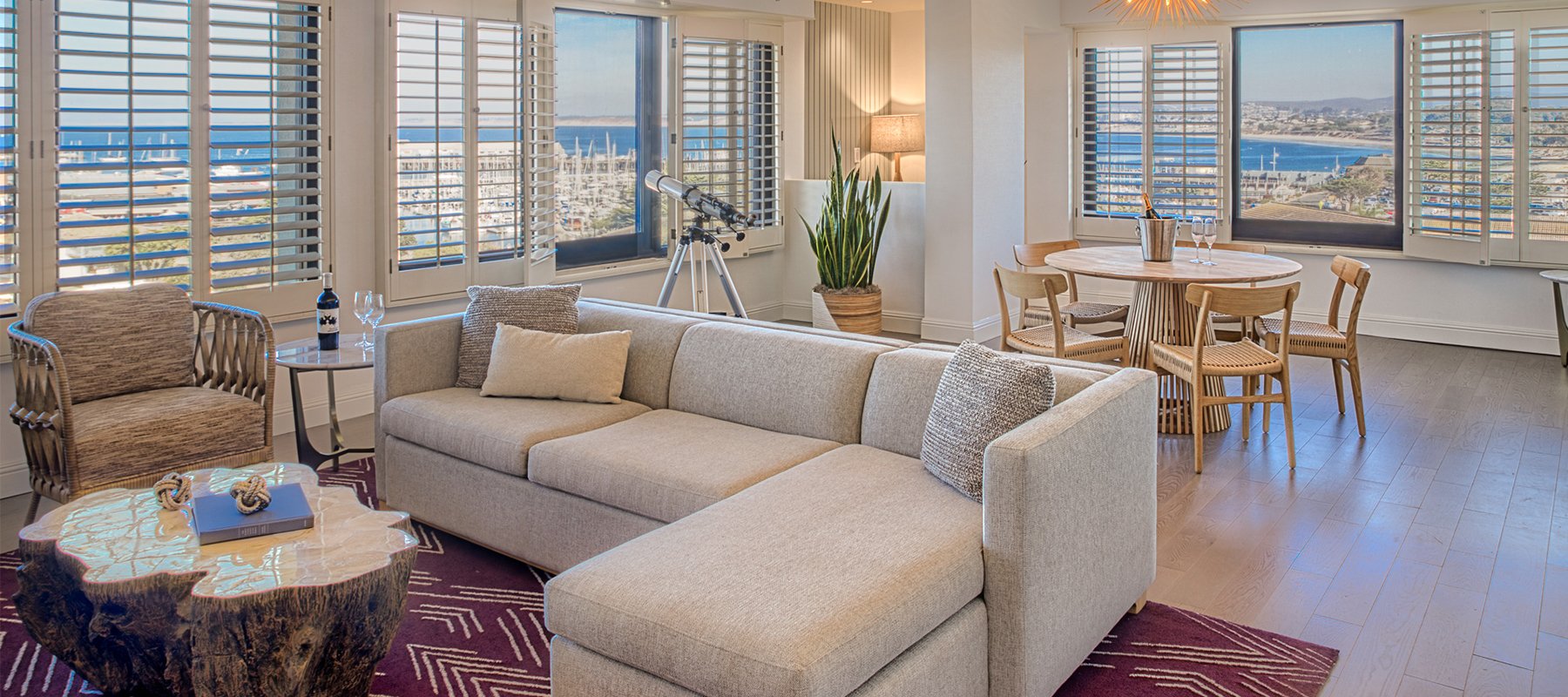 PORTOLA IN THE PRESS
Browse the latest press articles, news and awards from Portola Hotel & Spa at Monterey Bay. Our hotel is a charming coastal retreat known for its local charm, high-end accommodations and relaxed atmosphere on the Central California coast. We have also been honored with several awards and accolades including, Condé Nast Travelers Readers Choice Awards, Smart Meetings Smart Stars, Wine Spectator Awards, and more!
For media inquiries or to be added to our Portola press list, email us
[email protected]
.
PORTOLA HOTEL & SPA PARTNERS WITH LOCAL BUSINESSES TO ANNOUNCE FIRST FRIDAY MONTEREY
Tuesday, June 07, 2022
PORTOLA HOTEL & SPA PARTNERS WITH LOCAL BUSINESSES TO ANNOUNCE FIRST FRIDAY MONTEREY
Monterey, CA - June 7, 2022 - Portola Hotel & Spa partners with local businesses to create a monthly community event -- First Friday Monterey. Debuting Fourth of July weekend, First Friday Monterey is a free family event on the first Friday of every month, from 5pm to 8pm in the downtown Monterey area.
"Creating First Friday Monterey provides an opportunity to highlight the unique offerings of local businesses while presenting a range of storefronts to feature local artists for the evening. The downtown area including, Alvarado Mall and the Monterey Fisherman's Wharf offer a variety of wonderful businesses. Recreational activities at Adventures by the Sea, a collection of unique local artists from Venture Gallery and wine tasting at Sovino Wine Bar or Puma Road are just a few of the highlights in downtown Monterey," said Janine Chicourrat, Managing Director at Portola Hotel & Spa.
Local businesses confirmed for the July 1, 2022 event include:
Adventures by the Sea
Crepes of Brittany
KRML 94.7 FM
Monterey Magic & Comedy Theatre
MY Museum
Peter B's Brewpub
Princess Monterey Whale Watching
Puma Road at Portola Plaza
Sovino Wine Bar & Merchant
Spa on the Plaza
Venture Gallery
"We wanted to create a free fun event for our residents and their families to come out and gather to enjoy live music, great art and to celebrate Monterey," said Chicourrat.
For a complete list of activities and offers for the July 1, 2022 event at FirstFridayMonterey.com.
---
ABOUT PORTOLA HOTEL & SPA
Portola Hotel & Spa is California's premier family-friendly destination offering easy access to Monterey's most popular attractions. Leading the way as the Central Coast's first LEED® Certified hotel, Portola reflects unparalleled modern coastal luxury in downtown Monterey. The AAA Four Diamond hotel is the perfect coastal inspired escape, featuring 379 newly renovated guest rooms, and 60,000 square feet of meeting space with the adjacent Monterey Conference Center. The serene environment and pet-friendly accommodations offer several on-site, award-winning amenities including, Spa on the Plaza, an outdoor pool, exceptional dining, a craft brewery, a children's loyalty program, and more.
For more information, please visit portolahotel.com.
MEDIA CONTACT
Portola Hotel & Spa
Janine M. Chicourrat, Managing Director
[email protected]
(831) 649-7890