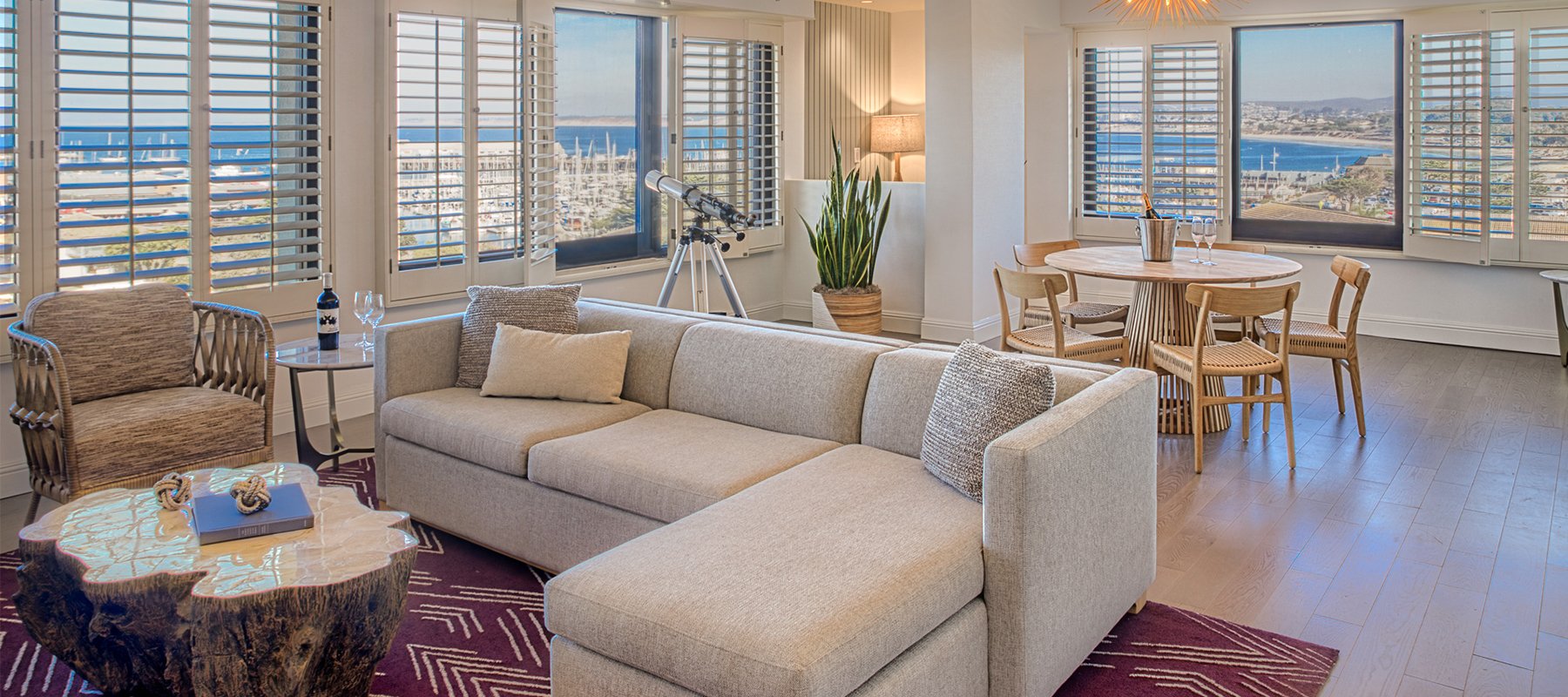 PORTOLA IN THE PRESS
Browse the latest press articles, news and awards from Portola Hotel & Spa at Monterey Bay. Our hotel is a charming coastal retreat known for its local charm, high-end accommodations and relaxed atmosphere on the Central California coast. We have also been honored with several awards and accolades including, Condé Nast Travelers Readers Choice Awards, Smart Meetings Smart Stars, Wine Spectator Awards, and more!
For media inquiries or to be added to our Portola press list, email us
[email protected]
.
JACKS MONTEREY AND PETER B'S BREWPUB BECOME BLUE ZONES APPROVED RESTAURANTS BY BLUE ZONES PROJECT MONTEREY COUNTY
Monday, April 24, 2023
Monterey, Calif. - April 24, 2023 - Portola Hotel & Spa at Monterey Bay announces that Jacks Monterey and Peter B's Brewpub have been recognized as Blue Zones Project Approved™ Restaurants by Blue Zones Project® - Monterey County.
Following the December news of Portola Hotel & Spa becoming a Blue Zones Project Approved worksite, the Central Coast property is now the first dual Blue Zones Project approval in Monterey County. The culinary teams at Jacks Monterey and Peter B's Brewpub worked tirelessly with Blue Zones Project for over a year to bring their Blue Zones approval into fruition. Led by Portola Hotel & Spa's Food and Beverage Director, Brian Hein, and Executive Chef, Carl Ashurst, the process of becoming a Blue Zones Project Approved Restaurant entailed updating Jacks Monterey and Peter B's Brewpub menus with an array of plantbased dishes that meet Blue Zones Healthy Dish Guidelines. Standout selections on the updated menus include the Garden Bowl, which is available for dinner at Jacks Monterey and Peter B's Brewpub and made with brown rice, black beans, zucchini, onions, bell peppers, pico de gallo, and avocado, and Javier's Skillet, which is available for breakfast at Jacks Monterey and combines scrambled egg-whites, tofu, spinach, black beans, salsa, and corn tortillas.
"Our restaurant operations continually strive to improve the quality of our menus, and Blue Zone Project has contributed greatly to our focus on providing more healthy options," said Brian Hein, Food and Beverage Director at Portola Hotel & Spa. "We're proud to have Jacks Monterey and Peter B's Brewpub join Portola Hotel & Spa with a Blue Zones Project recognition as we continue to commit ourselves to not only support our employee's wellbeing, but also our guests."
Other changes implemented by Jacks Monterey and Peter B's Brewpub to ensure they reached Blue Zones Project Approved Restaurant status include pricing plant-based entrées lower than their meat counterparts, removing saltshakers on tables to help reduce sodium intake, replacing fried food side dishes with fruit, vegetable, and whole grain selections, eliminating refined grains from the menu, and sourcing fresh ingredients from local producers. The overarching goal of these small changes is to help make Monterey County a healthier and happier place to live, work, and play.
For more information on Portola Hotel & Spa at Monterey Bay, Jacks Monterey, and Peter B's Brewpub, please visit www.portolahotel.com/.
---
About the Portola Hotel & Spa
Portola Hotel & Spa is California's premier family-friendly destination offering easy access to Monterey's most popular attractions. Leading the way as the Central Coast's first LEED® Certified hotel, Portola reflects unparalleled modern coastal luxury in downtown Monterey. The AAA Four Diamond hotel is the perfect coastal-inspired escape, featuring 379 guest rooms and suites, and 60,000 square feet of meeting space with the adjacent Monterey Conference Center. The serene environment and pet-friendly accommodations offer several on-site, award-winning amenities including, Spa on the Plaza, an outdoor pool, exceptional dining, a craft brewery, a children's loyalty program, and more.
About Blue Zones Project Monterey County
Brought to Monterey County through an innovative sponsorship by Salinas Valley Memorial Healthcare System, Taylor Farms, and Montage Health in collaboration with Sharecare, Inc. and Blue Zones, LLC, Blue Zones Project® is a community-by-community well-being improvement initiative designed to enable community members to live longer, happier lives with lower rates of chronic diseases and a higher quality of life. Based on principles developed by Dan Buettner, National Geographic Fellow and New York Times best-selling author of "The Blue Zones" and "The Blue Zones Solution," Blue Zones Project is designed to designed to make healthy choices easier through permanent changes to the built environment, policy and social networks. To learn more about Blue Zones Project, contact the Blue Zones Project team in Monterey County or visit montereycounty.bluezonesproject.com/.
MEDIA CONTACT:
Ballantines Public Relations for Portola Hotel & Spa
Trisha Davis
[email protected]