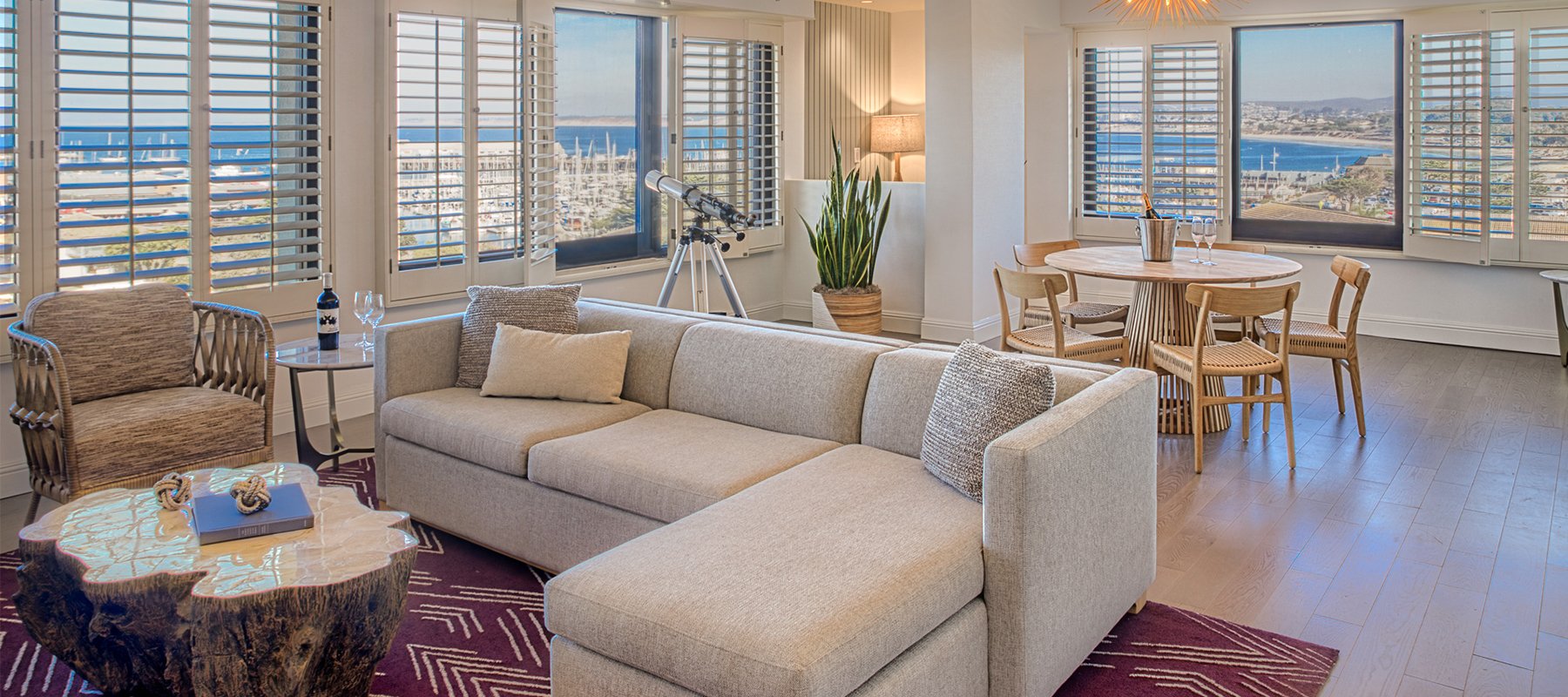 PORTOLA IN THE PRESS
Browse the latest press articles, news, and awards from Portola Hotel & Spa at Monterey Bay. Our hotel is a charming coastal retreat known for its local charm, high-end accommodations, and relaxed atmosphere on the Central California coast. We have also been honored with several awards and accolades including, Condé Nast Travelers Readers Choice Awards, Smart Meetings Smart Stars, Wine Spectator Awards, and more!
For media inquiries or to be added to our Portola press list, email us
[email protected]
.
PORTOLA HOTEL & SPA ANNOUNCES REFRESHED SPECIAL EVENT SPACE: THE CLUB ROOM
Tuesday, January 10, 2023
PORTOLA HOTEL & SPA ANNOUNCES REFRESHED SPECIAL EVENT SPACE: THE CLUB ROOM
Monterey, CA - January 10, 2023 - Portola Hotel & Spa at Monterey Bay is thrilled to announce the completion of The Club Room renovation. The dynamic event space offers a fireside entrance, wine-inspired private dining room, and an outdoor patio adjacent to Jacks fireside terrace. The Club Room refresh provides a sophisticated event space complimenting the hotel's continuous efforts to elevate and enhance offerings for meetings and events.
The rugged coast of Point Pinos inspired The Club Room interior design concept created by RoseBernard Studio. "We drew inspiration from the Point Pinos Lighthouse and the rich sea-faring history of Monterey. Colors, textures, and lighting in The Club Room are reminiscent of an era of sailing and exploring the peninsula. The furnishings and art concept nuance the rich craftsmanship of shipbuilding and fishing along the water's edge," said Robert Polacek, Creative Director & Partner at RoseBernard Studio.
Renovations to The Club Room's 4,500 square feet included new carpet, unique furnishings, and additional seating for 70+ guests with the removal of the previously existing built-in booths. "The uniqueness of The Club Room provides planners a warm ambiance from the polished woods, natural lighting and an open floor plan. An additional crowd pleaser is the seamless flow for guest interaction and convenient access to glowing outdoor fire pits on The Club Room Patio and Jacks Terrace overlooking the Monterey Harbor," said Terri D'Ayon Joyce, Director of Sales & Catering at Portola Hotel & Spa.
The Club Room renovation follows the completion of the hotel's efforts to renovate 379 guest rooms and six meeting spaces throughout the property. "Meeting space renovations and property upgrades continue to contribute to overall efforts to offer a premier experience for our guests and conference attendees," said Janine Chicourrat, Managing Director at Portola Hotel & Spa. The Four Diamond hotel and the adjacent Monterey Conference Center offer 60,000 square feet of flexible meeting and event space.
---
ABOUT PORTOLA HOTEL & SPA
Portola Hotel & Spa is California's premier family-friendly destination offering easy access to Monterey's most popular attractions. Leading the way as the Central Coast's first LEED® Certified hotel, Portola reflects unparalleled modern coastal luxury in downtown Monterey. The AAA Four Diamond hotel is the perfect coastal-inspired escape, featuring 379 guest rooms, and 60,000 square feet of meeting space with the adjacent Monterey Conference Center. The serene environment and pet-friendly accommodations offer several on-site, award-winning amenities including, Spa on the Plaza, an outdoor pool, exceptional dining, a craft brewery, a children's loyalty program, and more.
For more information, please visit portolahotel.com.
ABOUT ROSEBERNARD STUDIO
RoseBernard is known for their emphasis on collaboration resulting in consistently strong concepts that span every guest touchpoint and create a narrative that respects locality. Their work spans from restaurants to hotels and exclusive lounges around the world. By taking a holistic perspective on every project and using creative abilities paired with pragmatism, RoseBernard delivers market-specific, cost-effective, and unique solutions. With a passion for innovative and financially responsible solutions, their multidisciplinary studio works diligently to achieve clients and guests' goals to deliver the highest quality of design.
For more information, please visit rosebernardstudio.com.
MEDIA CONTACTS
Portola Hotel & Spa
Janine M. Chicourrat, Managing Director
[email protected]
(831) 649-7890
RoseBernard Studio
Robert Polacek, Creative Director, Partner
[email protected]